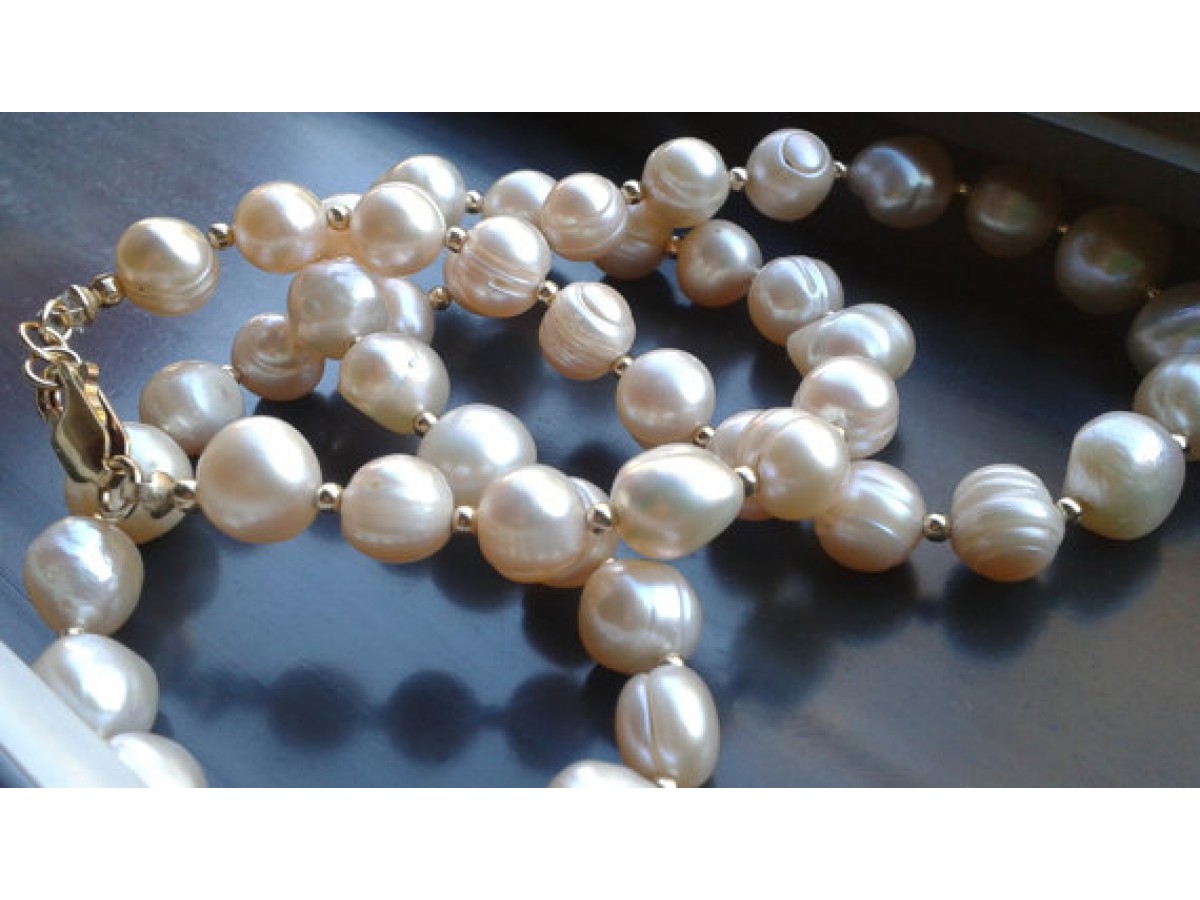 14k Gold-filled & Natural Peach Freshwater Pearl Necklace, Wedding Jewelry, Fine, Bridal, Classic

Product Description
14k Gold-filled & Natural Peach Freshwater Pearl Necklace, Wedding Jewelry, Fine, Bridal, Classic, Timeless FREE USA SHIPPING
I made this piece as a part of my Bridal Collection. This necklace is the perfect accessory for any Bride to wear on her special day! Pearls are classic and timeless, and versatile enough to be worn with almost anything!

An 18 inch strand of lustrous, semi-round peach pearls, alternated with tiny 14k Gold-filled beads, and terminated with a decent sized 14k Gold-filled lobster style clasp.

Necklace measures 18 inches long and it is not adjustable.

Pearl is the birthstone for the month of June! Give this necklace to that very lucky lady with a June birthday!

Cultured or freshwater pearls are considered to offer the power of love, money, protection, and luck. Pearls are thought to give wisdom through experience, to quicken the laws of karma and to cement engagements and love relationships. They are thought to keep children safe. Early Chinese myths told of pearls falling from the sky when dragons fought. Ancient legend says that pearls were thought to be the tears of the gods and the Greeks believed that wearing pearls would promote marital bliss and prevent newlywed women from crying.

Gold-Filled: Gold-filled is an actual layer of gold-pressure bonded to another metal. Gold filled is not to be confused with gold plating as filled literally has 100% more gold than gold plating. Gold filled is much more valuable and tarnish resistant. It does not flake off, rub off or turn colors. As a matter of fact, anyone who can wear gold can wear gold-filled without worries of any allergic reaction to the jewelry. Gold filled jewelry is an economical alternative to solid gold, and can last a lifetime if taken care of properly.


This item will arrive packaged in a long black gift box - perfect for easy gift giving, or even just to treat yourself!

$5 Flat Rate Shipping - FREE SHIPPING on orders over $100!
---
---
---
---
Shoppers Also Viewed
Other Products From Handcrafted by Miranda
Customer Reviews
Login to leave a review.