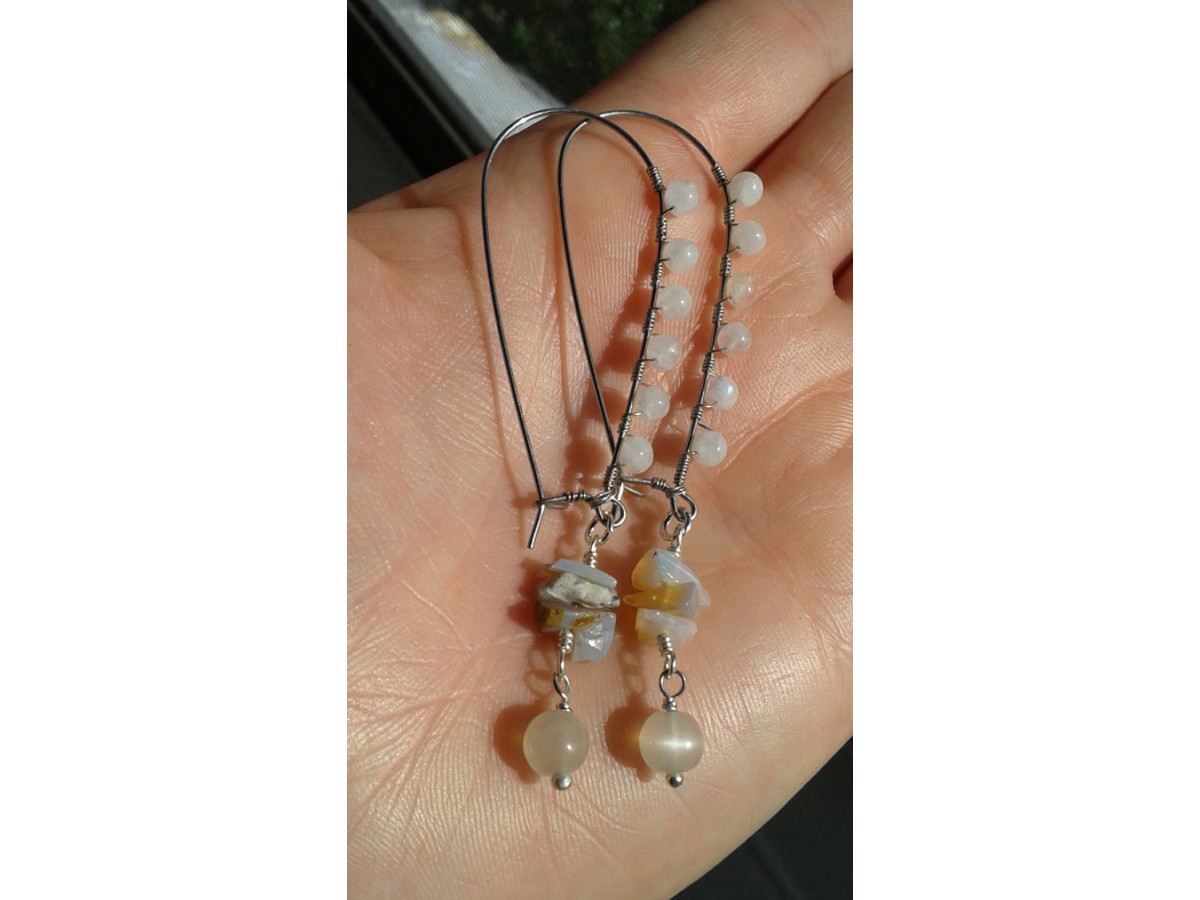 Oversized Stainless Steel Earwire with Rainbow Moonstone Wire Wrap & Dangle, Wedding, Statement

Product Description
Oversized Stainless Steel Earwire with Rainbow Moonstone Wire Wrap & Dangle, Wedding, Statement Jewelry, Unique
Long stainless steel kidney shaped ear wire, wire wrapped with thin silver-plated copper wire for security and embellished with small round Rainbow Moonstone gemstone beads. Natural iridescent Opal chips and White Moonstone beads dangle at the bottom.

Earrings are meant to be oversized. Actual ear wire measures 48mm long, and Opal & Moonstone dangle adds approximately 1 inch to earrings. In total, earrings measure 3 inches long.

Opal is the Birthstone for the month of October! Opal is a wonderfully supportive stone, dedicated to healing and strengthening the emotional body for those willing to peer honestly into the true self. Opal's high internal energy brings thoughts and feelings to the surface for examination, and reveals what one's emotional state has been in the past, or even in previous lives. This amplification and cleansing process may be intense when first working with Opal, but over time teaches one to take responsibility for one's feelings while clearing past wounds, fears and resentments. It facilitates the letting go of negative behaviors and soothes the emotional body, helping one feel more in control. It assists one in becoming more positive and loving, more creative and spontaneous. Known as a "stone of happy dreams and changes," Opal brings happiness from the understanding that one has unlimited potential and is inherently perfect, and that change comes with situations and actions that allow one's aspirations to rise. Opal is beneficial for the health of the eyes, hair, nails and skin, and may be used in treatments to clarify and strengthen the eyesight, and in treating disorders associated with the eyes. It may also be useful in balancing the body's water content, overcoming dehydration or alleviating water retention. Opal is supportive in issues with female hormones, PMS and menopause, and provides comfort and ease during childbirth.

Moonstone is the alternate birthstone for the month of June. It has long been known for its calming, soothing qualities on the emotional body. Its energy is balancing and healing, assisting in the mastery of emotions by bringing them under the control of Higher Will, rather than expressing or repressing them. It also helps identify emotional patterns that are stored in the subconscious, and serves as a guardian to contain explosive passions, and to stimulate confidence and composure. Moonstone helps in attuning to the normal rhythms of the biological forces of one's body and to utilize natural energy cycles.


These unique earrings will arrive packaged in a small black gift box - perfect for easy gift giving, or even just to treat yourself!

$5 Flat Rate Shipping - FREE SHIPPING on orders over $100!
---
---
Shoppers Also Viewed
Other Products From Handcrafted by Miranda
Customer Reviews
Login to leave a review.