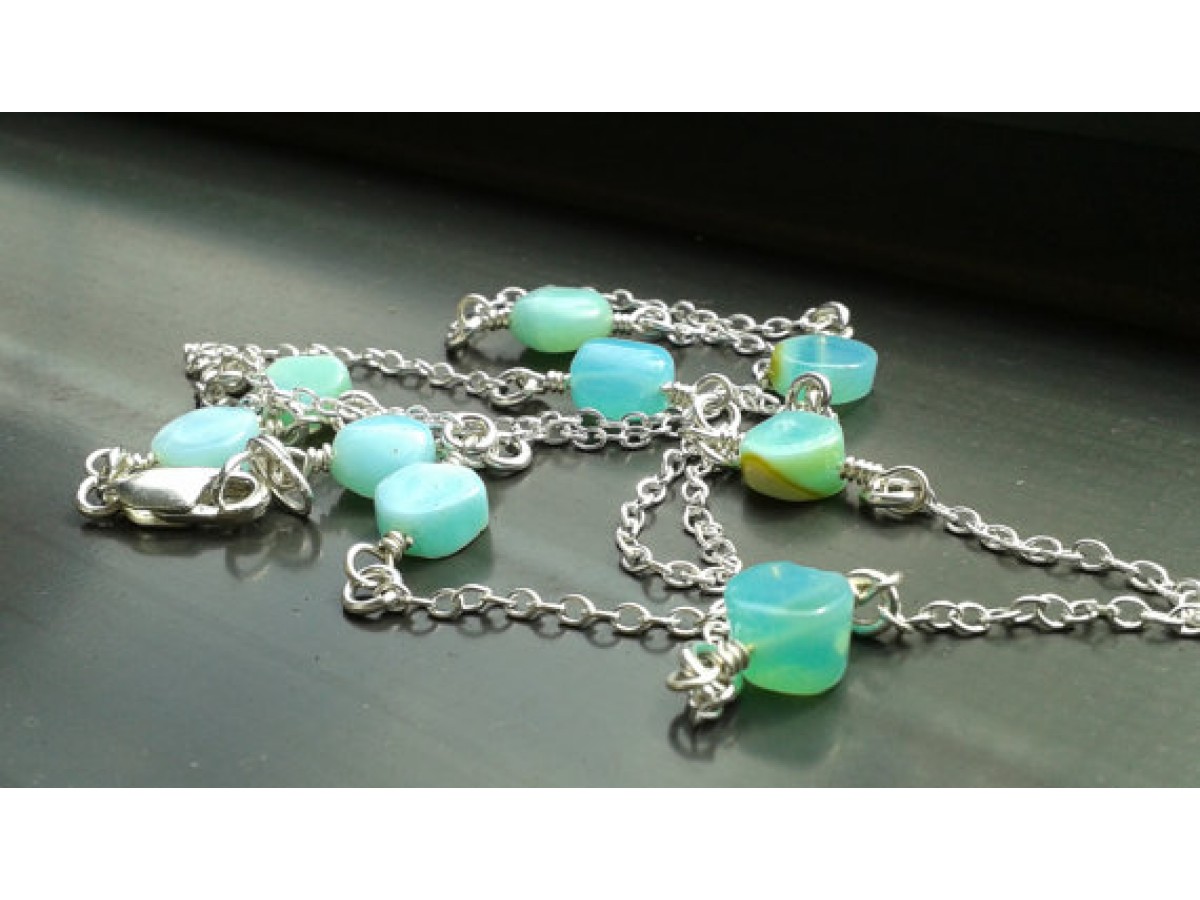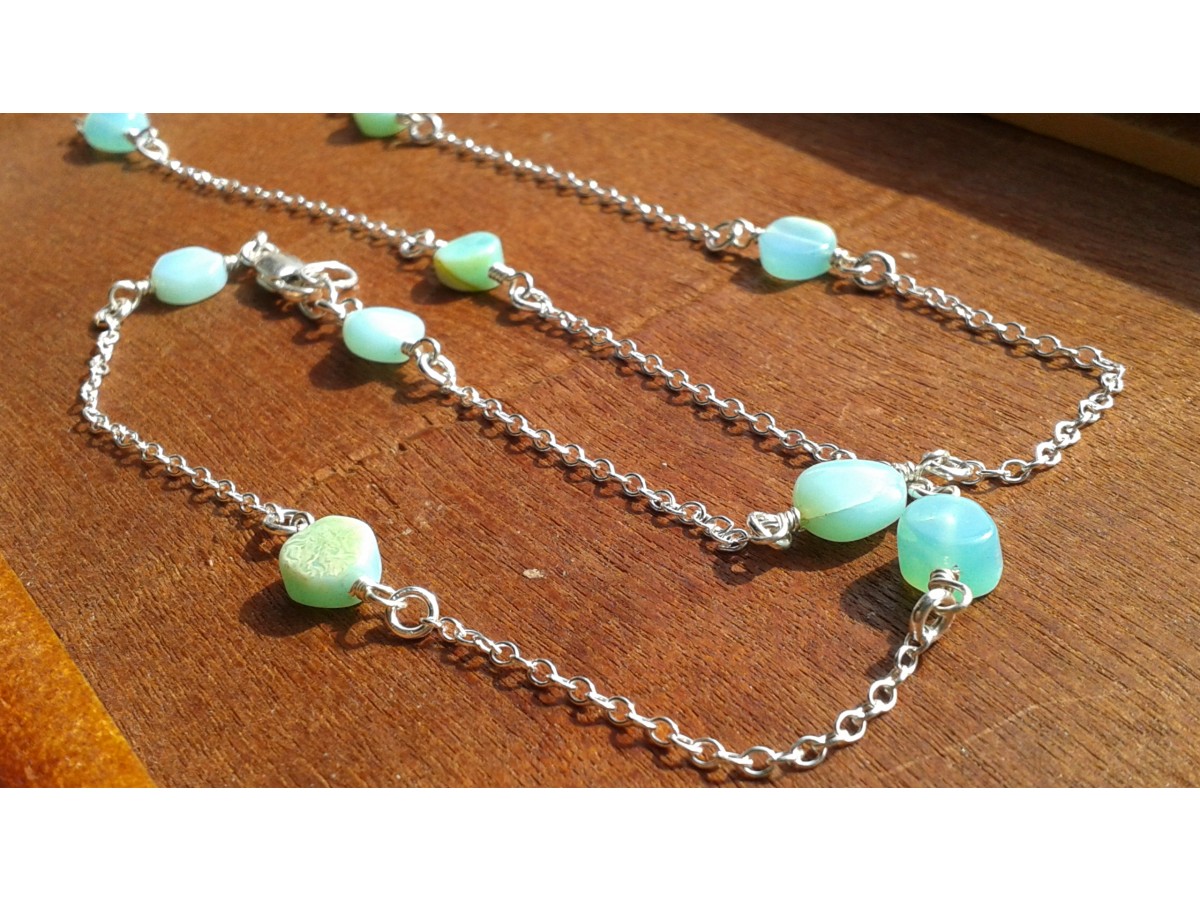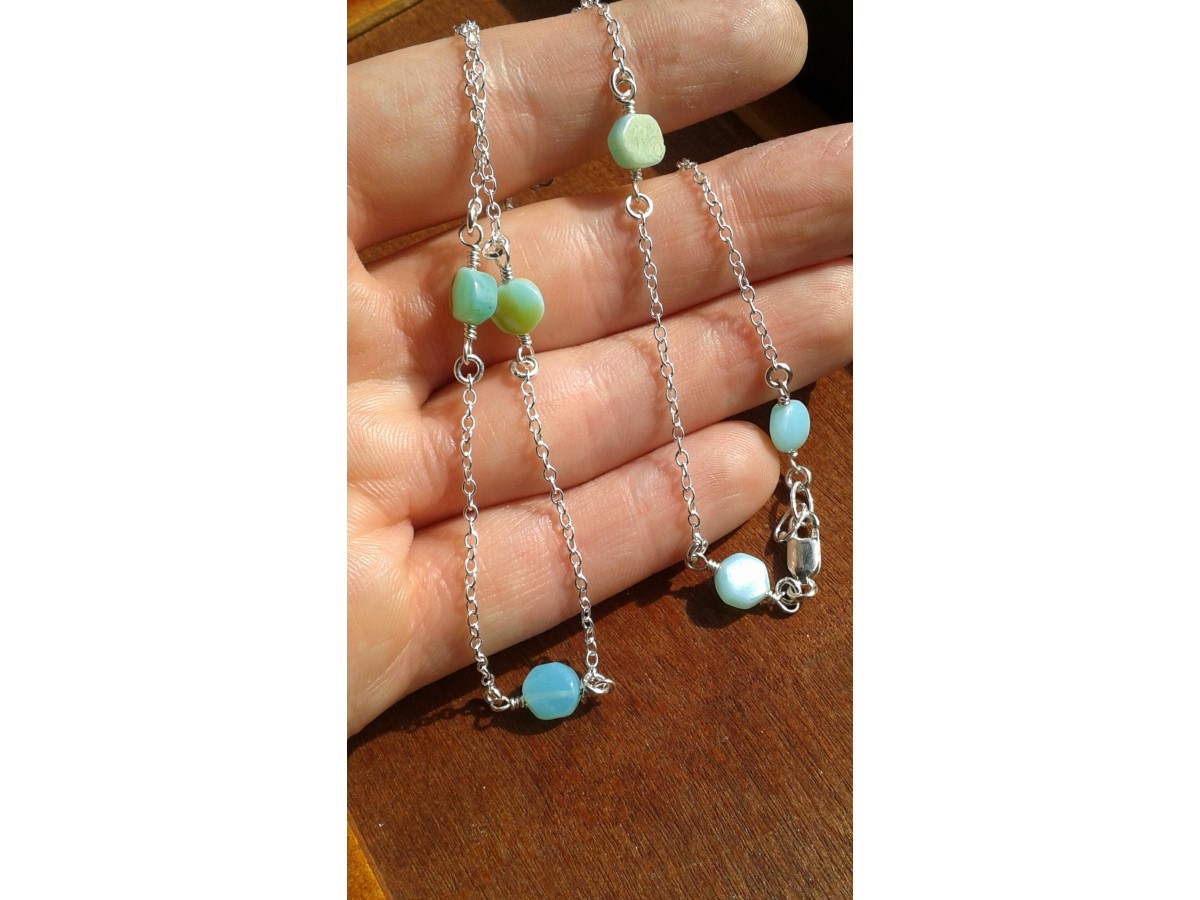 Peruvian Blue Opal & Sterling Silver Chain - Something Blue, Bridal Jewelry, Wedding

Product Description
Peruvian Blue Opal & Sterling Silver Chain - Something Blue, Bridal Jewelry, Wedding, Layering Necklace, High Fashion
This delicate necklace is comprised of 1.5mm Sterling Silver cable chain, punctuated by wire wrapped aqua-colored Peruvian Blue Opal beads, and completed by a .925 silver lobster style clasp.

This sterling silver & gemstone chain measures 18 inches long, and is only slightly adjustable.

I made this subtle piece as part of my Bridal Collection - it can be worn as the Bride's "something blue."

It is the perfect accessory for anyone going for a classy minimalist look, or you can layer this piece with other necklaces for a bolder statement.

Opal is the birthstone for the month of October!

Opal is a wonderfully supportive stone, dedicated to healing and strengthening the emotional body for those willing to peer honestly into the true self. Opal's high internal energy brings thoughts and feelings to the surface for examination, and reveals what one's emotional state has been in the past, or even in previous lives. This amplification and cleansing process may be intense when first working with Opal, but over time teaches one to take responsibility for one's feelings while clearing past wounds, fears and resentments. It facilitates the letting go of negative behaviors and soothes the emotional body, helping one feel more in control. It assists one in becoming more positive and loving, more creative and spontaneous. Known as a "stone of happy dreams and changes," Opal brings happiness from the understanding that one has unlimited potential and is inherently perfect, and that change comes with situations and actions that allow one's aspirations to rise. Opal is beneficial for the health of the eyes, hair, nails and skin, and may be used in treatments to clarify and strengthen the eyesight, and in treating disorders associated with the eyes. It may also be useful in balancing the body's water content, overcoming dehydration or alleviating water retention. Opal is supportive in issues with female hormones, PMS and menopause, and provides comfort and ease during childbirth.

Necklace will arrive packaged in a black gift box - perfect for easy gift giving, or even just to treat yourself!

$5 Flat Rate Shipping - FREE SHIPPING on orders over $100!
---
---
---
---
Shoppers Also Viewed
Other Products From Handcrafted by Miranda
Customer Reviews
Login to leave a review.